A complete inspection service!
Your complete team of Building and Pest Inspectors covering the Whitsunday and Mackay regions.
Buying a property as an owner occupier, or investor and need a thorough inspection? Need help making important financial decisions?
Contact Richard, your licensed building inspector for your rapid quotes, inspections, and reports on 0411 603 094 or send an email with any queries or requests to hello@completeinspections.co
Google Reviews
Kenna Dickerson
2023-10-19
Good service, both building and pest. Report was extremely thorough.
Fast and efficient service, polite and well priced. Thank you Rick 🙂
Once again Ricky has done a great job for my family and he brought us peace of mind with our house purchase. The reports are factual but readily read and understood. Kim Dale
Complete professional, would recommend Rick's services!
Ordered a building & pest report with Rick, he was very detailed, 99 pages incl photos. Great communication and description of home was detailed & informative. Recommended.
Gorf Sixtyfour
2023-04-27
Fantastic service. Fast response time, on time Service and really easy access to the report upon payment. Highly recommend to anyone needing a pest & building report in the Whitsunday region.
Belinda Provera
2023-04-11
Thank you Richard for your prompt reply to our building and pest inspection enquiries. I highly recommend your service, very thorough and detailed and you were happy to talk to me about any questions and enquiries I had following your service.
Shania Tarchichi
2023-03-23
Great service, very responsive. Definitely recommended
Company Information
Chief Operator: Richard Murgatroyd
QBCC Licence No: 1115876
MB Licence Member: 085733
Servicing These Areas
Airlie Beach, Bowen, Brisk Bay, Bloomsbury, Bakers Creek, Cannonvale, Collinsville, Conway, Campwin Beach, Calen, Dingo Beach, Eungella, Eimeo, Gunyarra, Hamilton Island, Hideaway Bay, Home Bush, Jubilee Pocket, Jaraga, Kuttabul, Laguna Quays, Midge Point, Mackay, Mirian, Miran, Mt Ossa, Proserpine, Pinnacle, Queens Beach, Shute Harbour, Sarina, Scottville, Slade Point, Seaforth, Walkerston, Yalboro
Sample Inspection Report
A quality building inspection report provides you with complete, clear, and accurate information on the condition of the building you wish to purchase. Because the report is based on the inspector's knowledge and expertise, it is essential to making an informed decision on your purchase.
Download an example of a building inspection report. Complete Inspections uses Australian Standards AS 4349.1.
About Complete Inspections
Complete Inspections offers you:

Thorough quality building and pest inspections, property information and onsite inspections, plus full reports with photographs to make all easy to understand and assist you to make informed property and any real estate purchasing, building, or renovations decisions.
Complete Inspections uses Australian Standards AS 4349.1.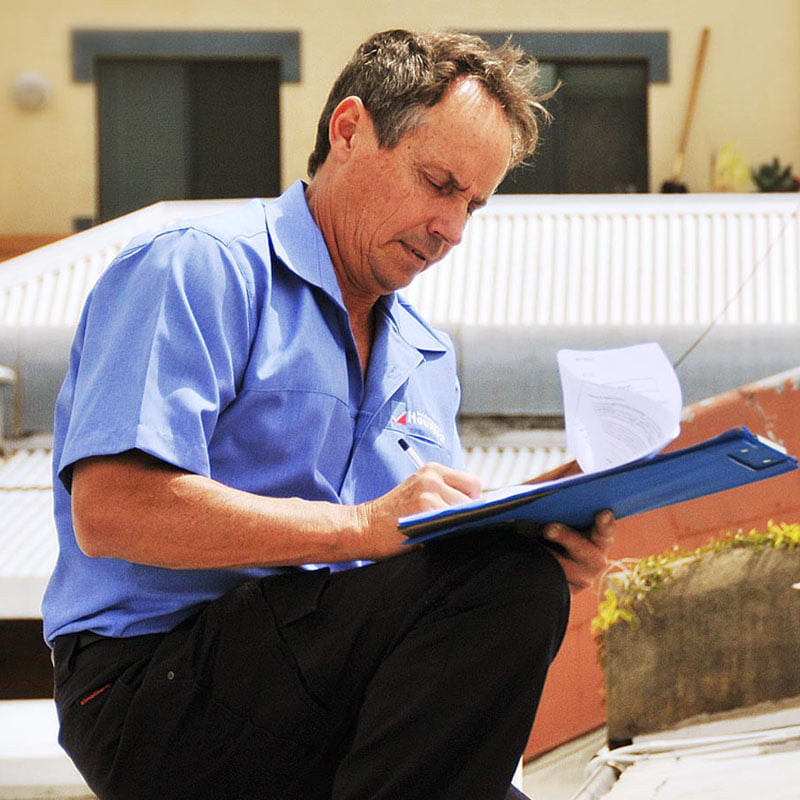 Rapid inspections, Rapid reports!
We provide rapid inspections, with photographic electronic reports
We aim to offer a rapid service with your quotes, booking, payments, inspections and detailed building and pest reports with photographs that are emailed by your Inspector.
Complete Inspections offers you a standard 24 hours report service or if an Emergency please discuss a same day service option with your inspector.
In most situations, Complete Inspections can offer a same day service and provide reports via email within 24 hours of the inspection being completed.
Benefits of an Inspection Report
Property Inspections and Building Reports are to advise you of the state and actual condition of the property from a visual perspective from a qualified and licensed building inspector.
Live information and photographs, enable you to understand many areas of the property, e.g.: Current condition, materials, age, any visible damages, maintenance or repairs, details on any extensions or improvements, and compliance with Australian standards and building codes.
Areas where you can utilise inspections to your advantage:
Pre purchasing as an investor from an agent or seller; or to prepare the purchase at an auction.
Risk management, scheduling and budget projections for renovations, repairs or replacements.
Insurance claims.
Compliance purposes.
Handover and completion of new properties, renovations, extensions with your builder, build contract.
Pest Issues – termites, wood rot and borers.
Body corporate inspections.
There are 2 services we offer you for residential, commercial, industrial and body corporate services:
1) Building inspection and report
2) Building and pest inspection/ report package
Quality Results, Every time!
You can trust Complete Inspections to deliver a complete inspection service that will satisfy your concerns and budget. Complete Inspections takes the guess work out of buying or constructing your new house. Giving you peace of mind and creating buyer confidence.
Complete Inspections uses Australian Standards AS 4349.1.
Yes… We're Experienced!
Richard Murgatroyd, (QBCC Licence No: 1115876) is your trusted builder and inspector. Nothing escapes his attention! With over 30+ years in the building industry, he and his team know the telltale signs of bad building practices or building defects. Richard currently offers: Building inspections, new builds, renovations & carpentry. Call Richard Today!